Waterfront Styling Project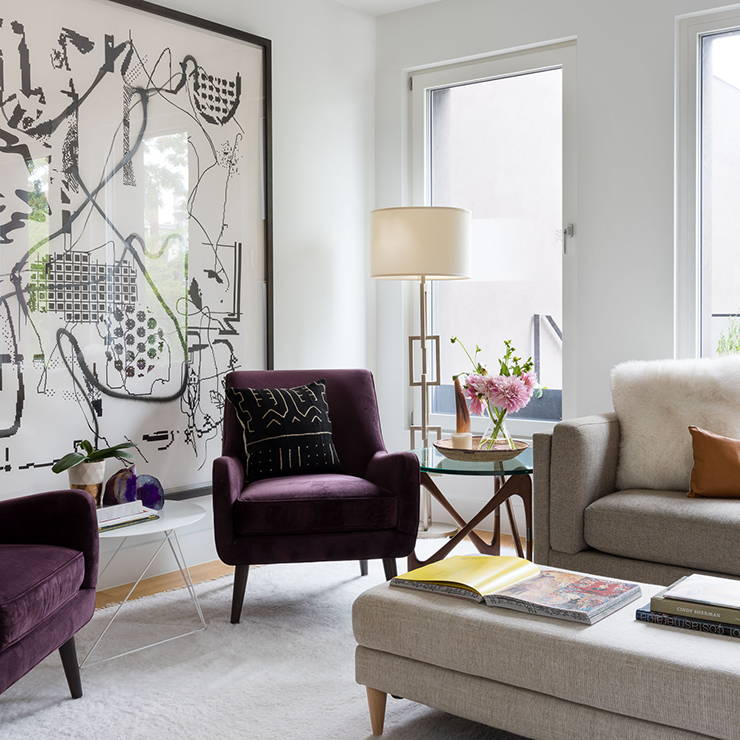 This wide, open-plan space showcases a multitude of the client's largescale modern art collection, so its interior styling had to be minimalistic, clean & precise.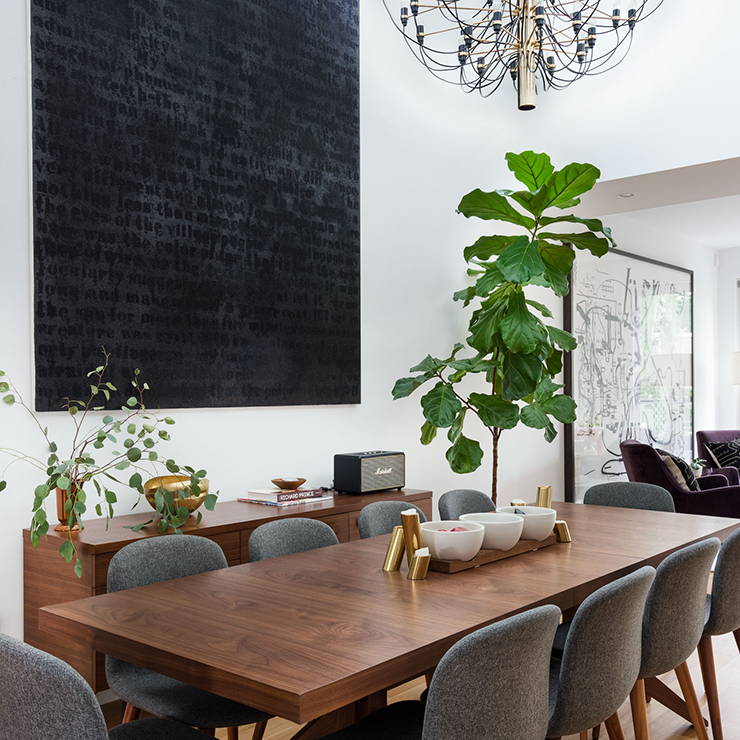 A little greenery goes a long way. Here, moving the tall fiddle leaf fig tree next to the client's monumental painting was the perfect antidote to an otherwise gaping white space.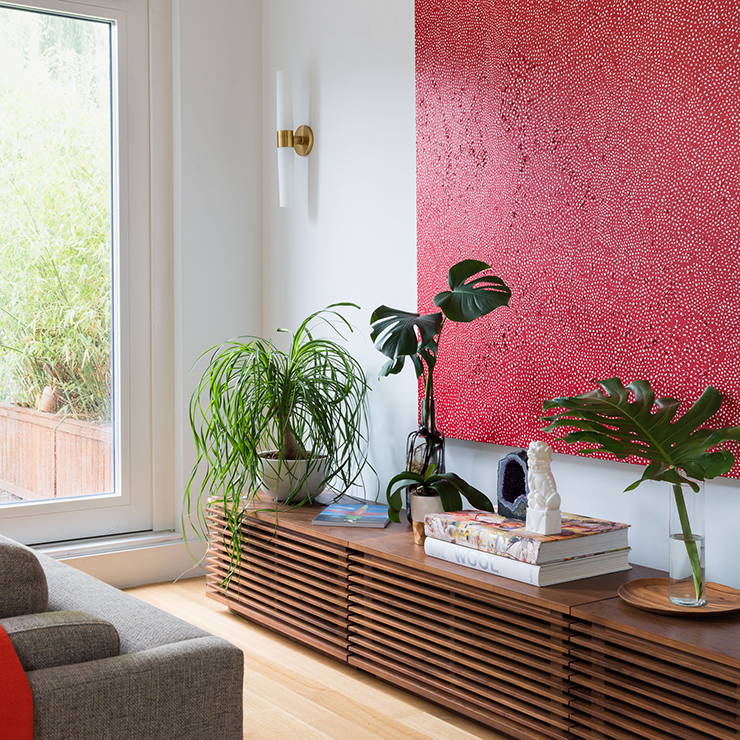 Again, greenery helps break up the starkness of the painting and the low-lying mid-century style credenza. Large coffee table books, too, are real boons for styling.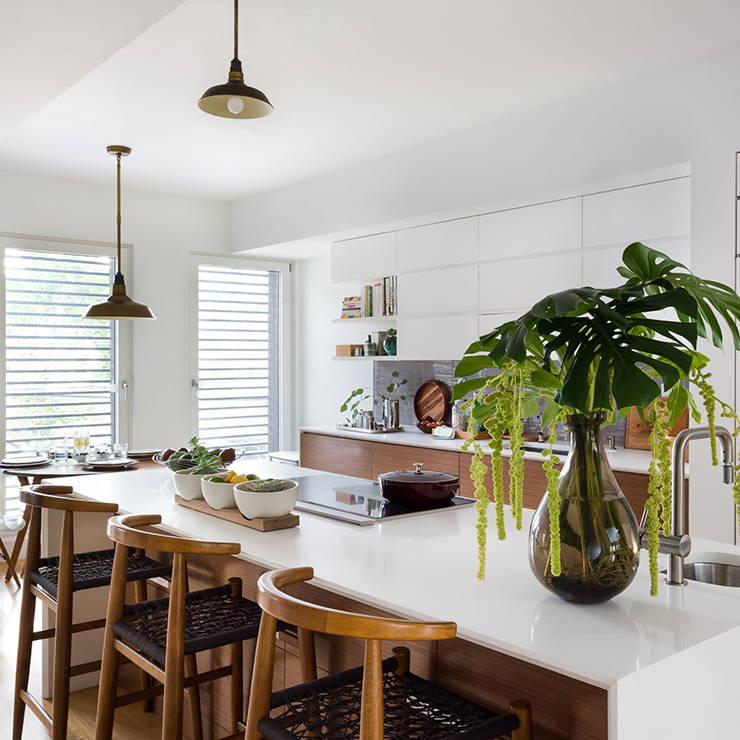 Who doesn't love a clean, white kitchen? Here bowls of citrus and succulents sit alongside a pretty Staub casserole pot.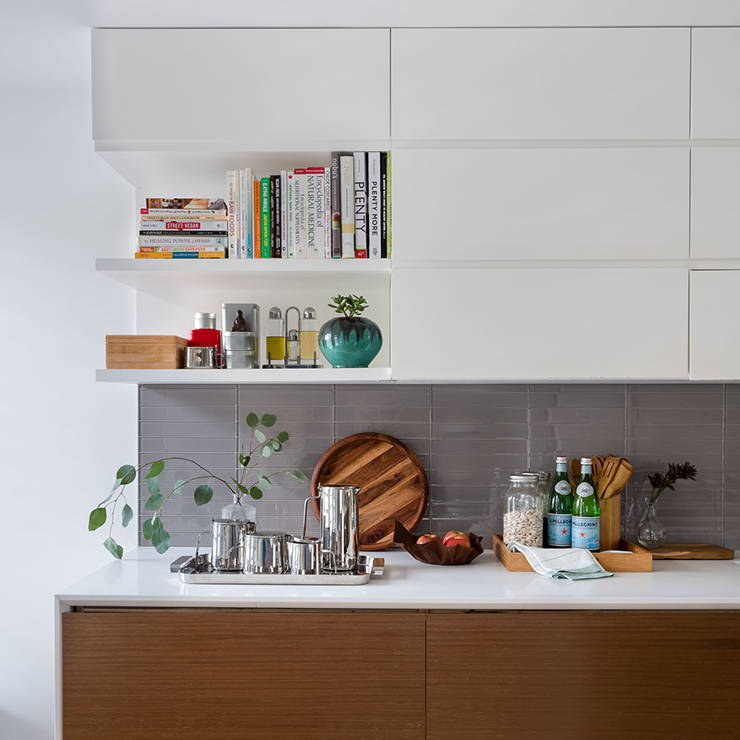 A clean, organized kitchen always looks appealing. Cookbooks are stacked, wooden boards & tools are displayed, and the client's coffee & tea service give good shine.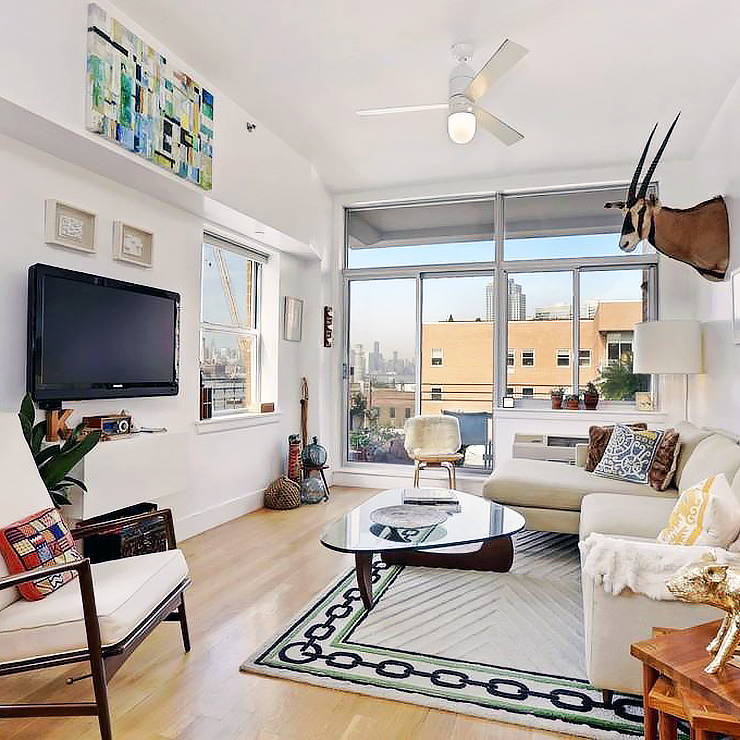 The client of this newly-built waterfront condo in Brooklyn wasn't looking to make structural changes, so we sourced tons of vintage and mid-century-style pieces to fill it out.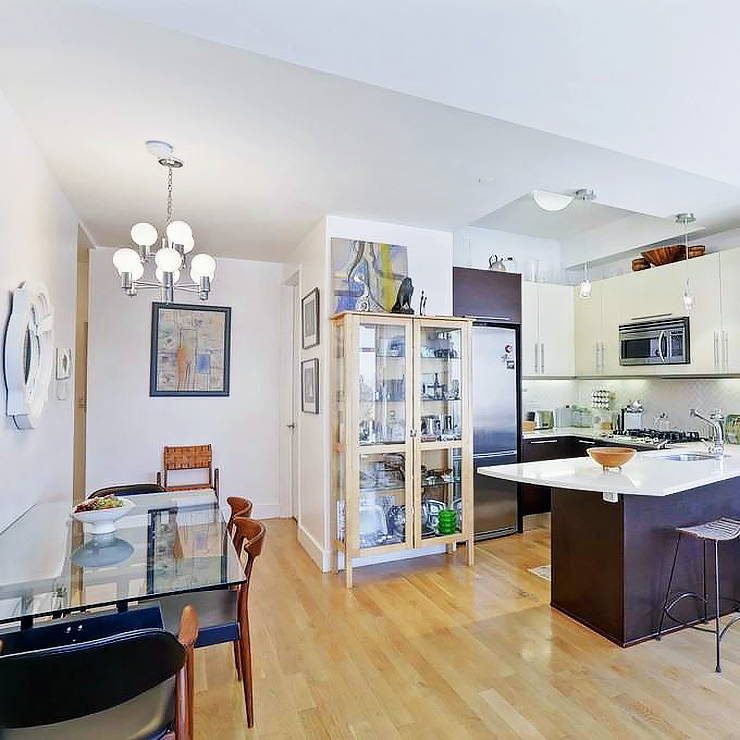 Transparent furniture, like this glass-top dining table, tricks the eye into thinking it's not there. The tight space would look too cramped with a solid-wood or marble tabletop & would have disrupted this 800-sq-ft apartment's flow.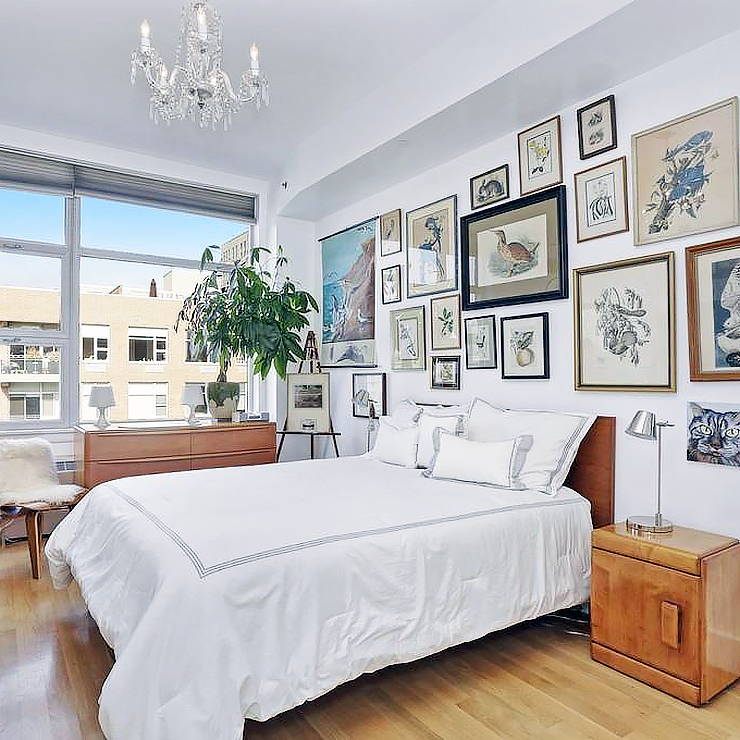 A salon-style gallery wall of vintage framed artwork, antique crystal chandelier, and Mid Century furniture are counterpoints to the condo's white box construction.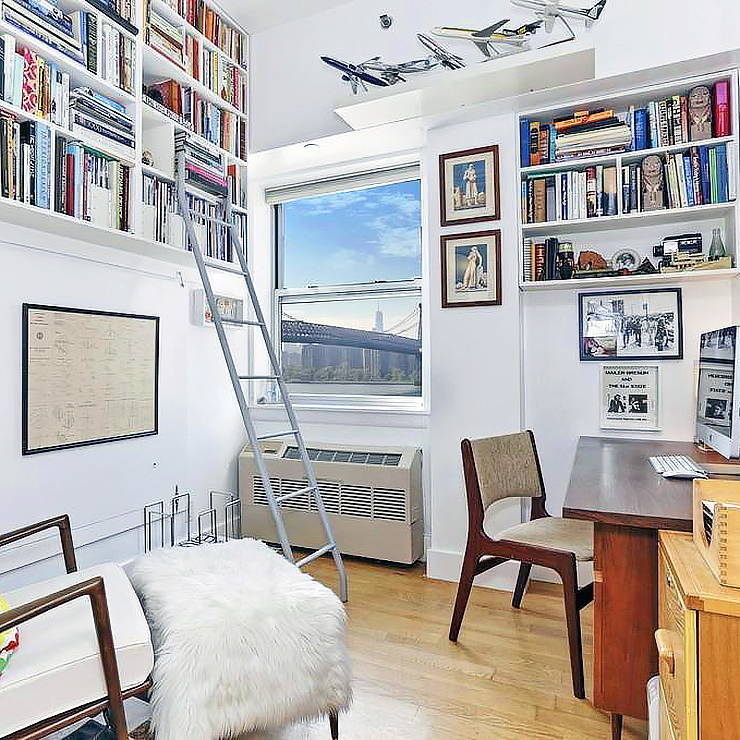 The clients wanted a library-cum-office space with built-in shelving for their combined book collections. When guests visit, furniture gets shuffled & a wooden platform folds down to provide a full-size sleeping surface—and it stays hinged to the wall when not in use.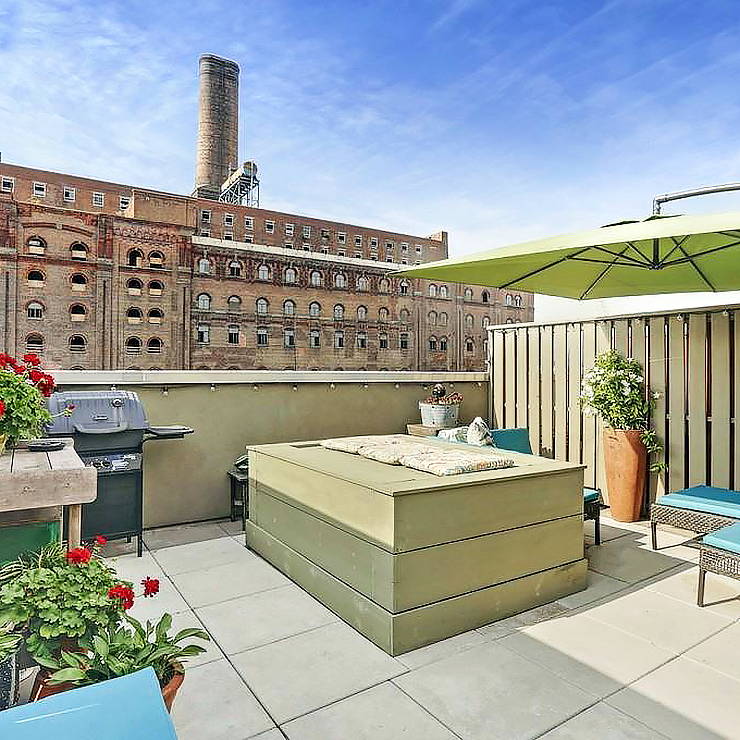 A private, rooftop cabana sits directly above the unit & a skylight sat awkwardly in the center of the space, roughly 1ft off the ground. We designed a larger, taller frame surrounding the skylight with a removable panel acting as a platform for tanning, resting & entertaining. When blue skies beckon, the panel simply attaches to the surrounding fence.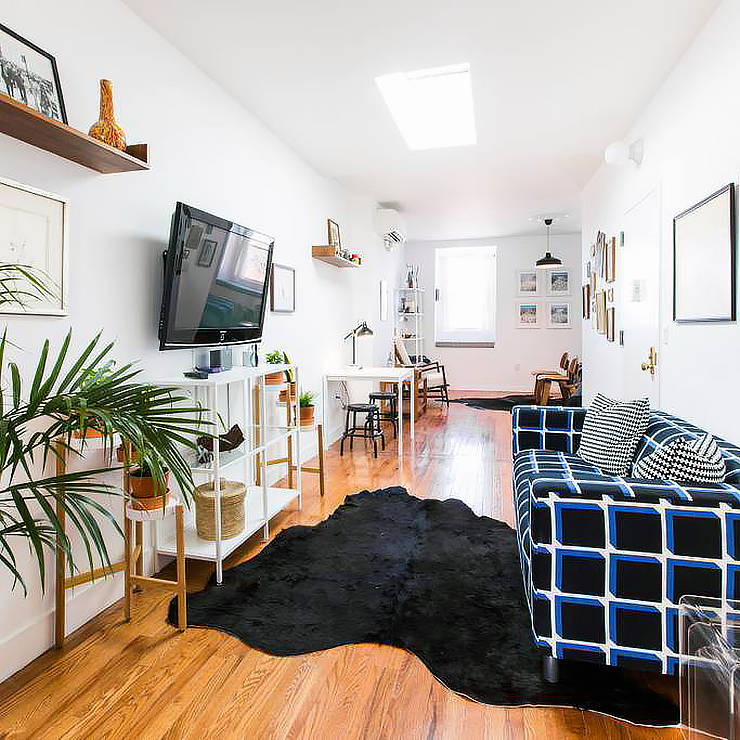 This apartment is purely an income property in an attached home, but it needed a gut-renovation. Walls were demo'ed & then sound attenuated for an airier, brighter space.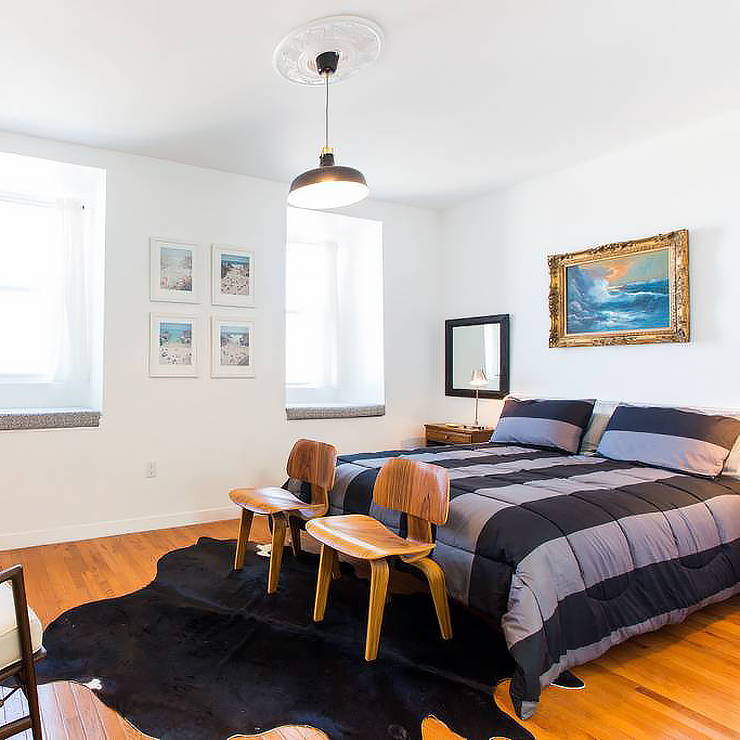 Walls were kept a simple Decorator's White, cute window alcoves were fashioned into window seats with custom cushions & vintage art & furniture commingle with budget-friendly Ikea pieces.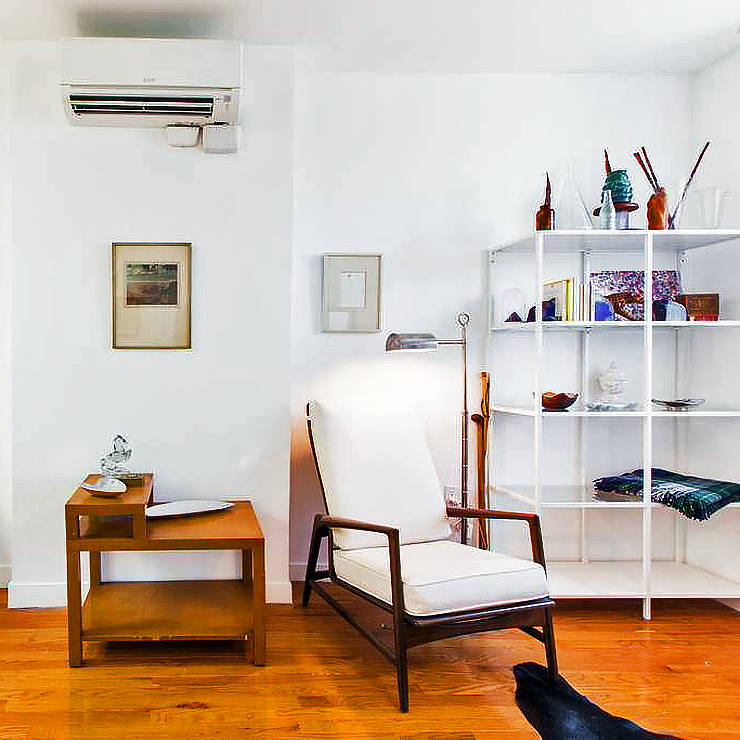 A new, unobtrusive HVAC system sits above a reading nook. The unit's rental status informed its decorative accents & styling—there are enough interesting moments for the obligatory Instagram shots, but the space still remains uncluttered.
A clean white table with a good reading lamp is perfect for dining on some takeout & easily adapts to an impromptu desk/work station. This space is both easy to clean—and easy on the eyes.
We created this galley-style kitchen solely with kitchen elements upcycled from another part of the home—they would have been scrapped otherwise. The only brand-new bits are the handmade subway-tile backsplash, the refrigerator & the stove.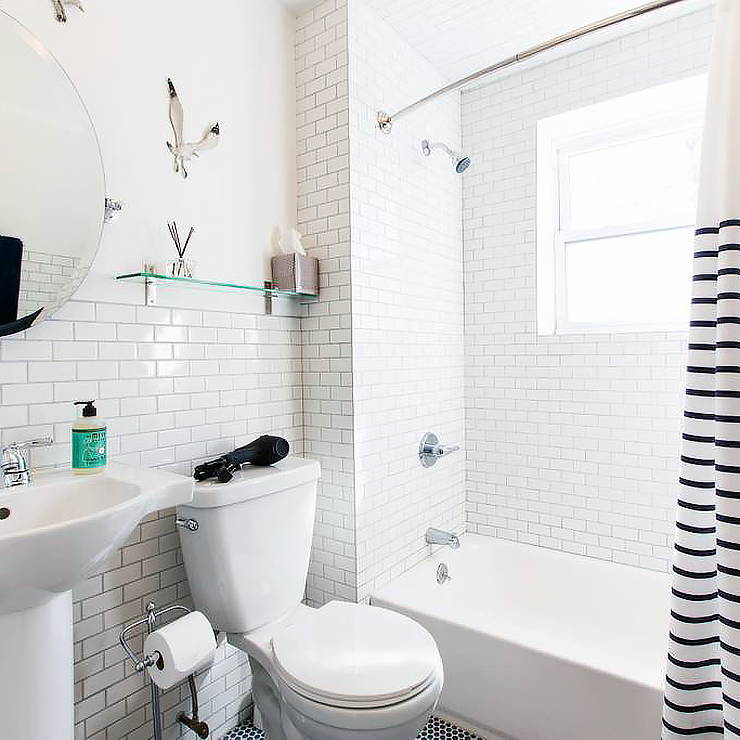 The full bath was gutted—and walls, incuding the shower surround, were covered with affordable, smallscale subway tile (finished with gray grout). The mirror was repurposed, and navy-blue penny tiles cover the entire floor. We also stuck solely to shiny chrome accents to cap off that 'clean' feeling guests love when they're AirBnb-ing.
Greenpoint Rental Property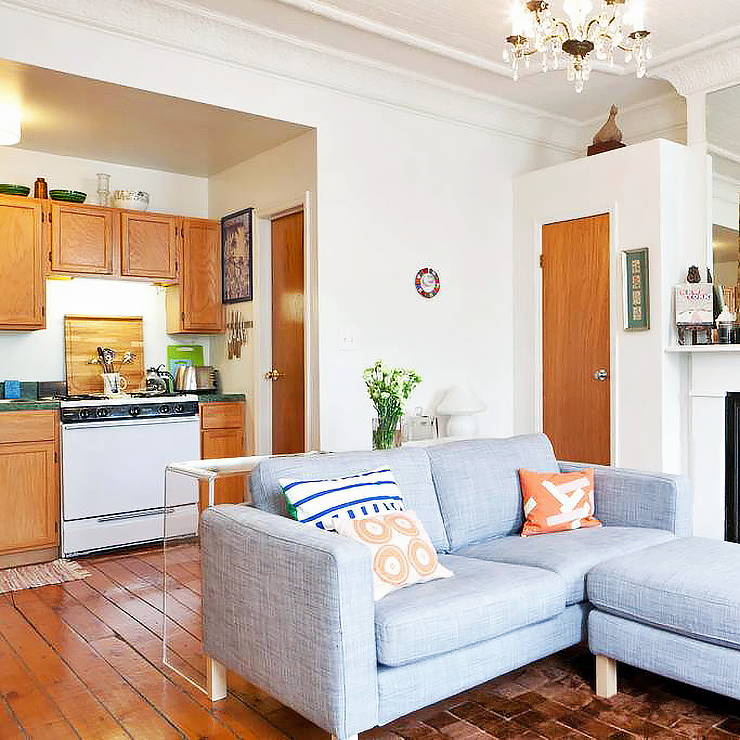 This 300sq-ft space acts as a pied-a-tierre for clients who regularly visit the city. Decorative zhooshing was the driving force here, since structural changes were forbidden.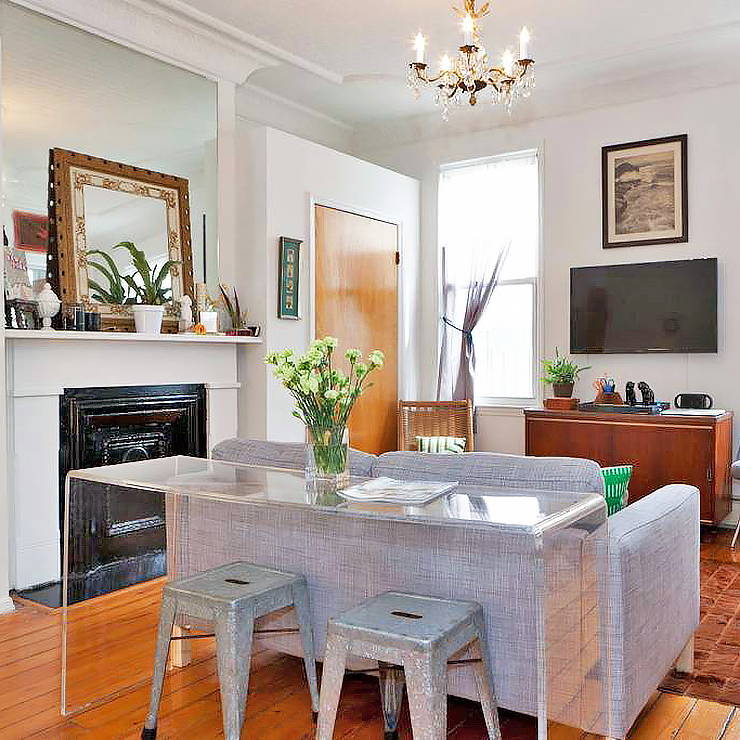 Since there wasn't room for a dining table or desk, we created a custom acrylic console table to act as both. We mixed in a lot of vintage pieces to create a multilayered look that doesn't exactly scream Ikea.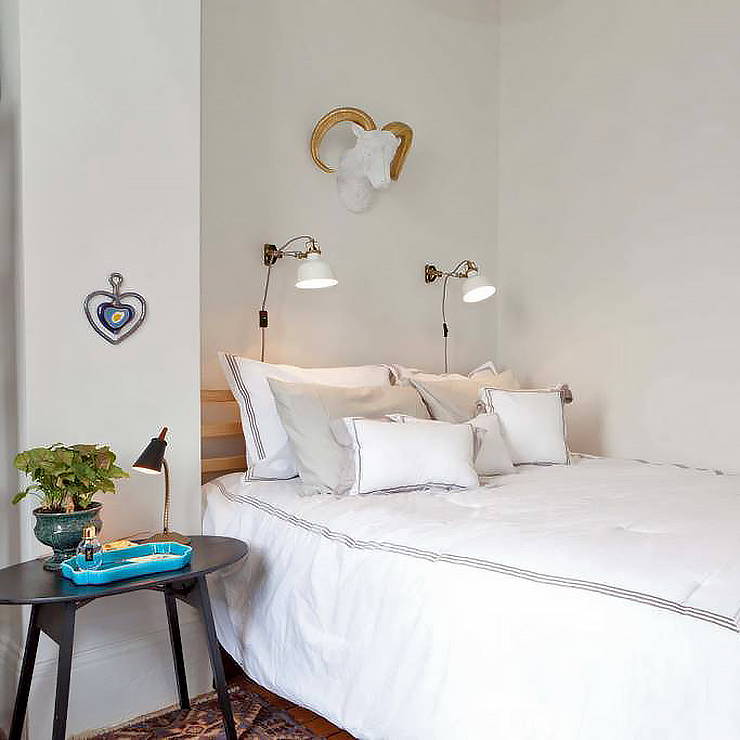 The bedroom was just large enough for a queen bed. Reading lamps add to its coziness & luxe white bedding was a splurge—but it's a welcome greeting after long plane rides.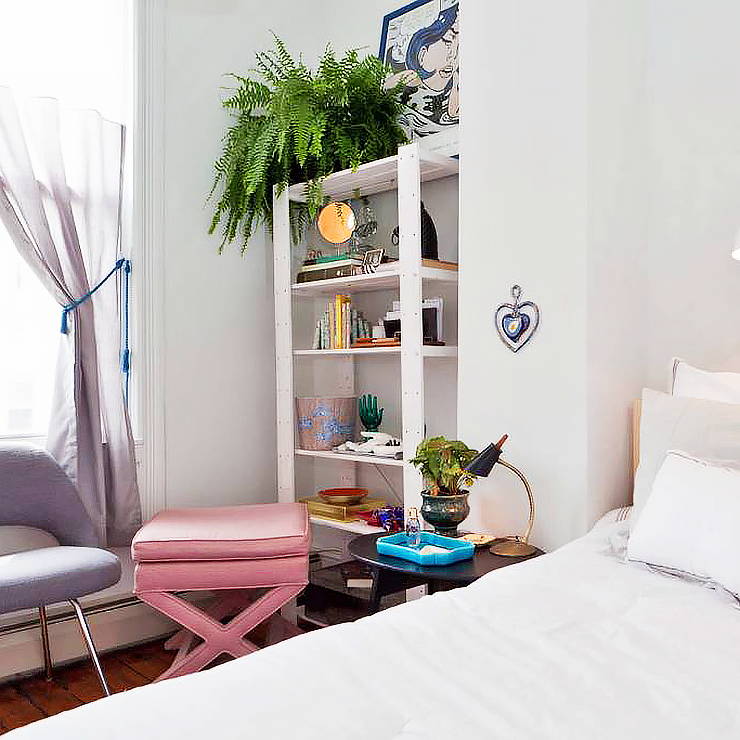 A practical sitting/reading area with open, freestanding, whitewashed shelving looks as if it was custom-made for the space. There's even a place for a suitcase.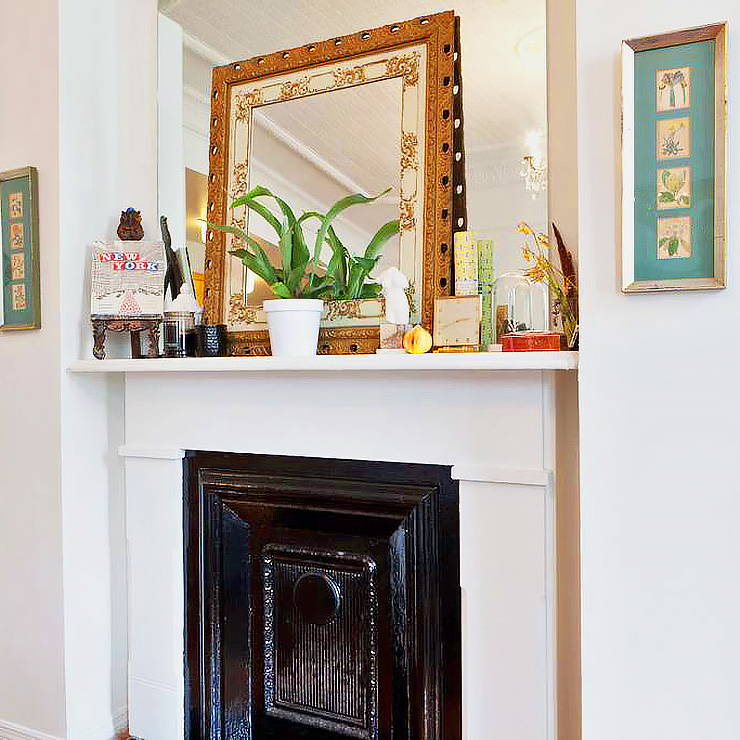 Although this 300-sq-ft walkup is pretty miniscule, it's super-big on style and original details. The problem of the super-weird 1980s mirror paneling over the original fireplace was completely solved by simply leaning an antique framed mirror against it.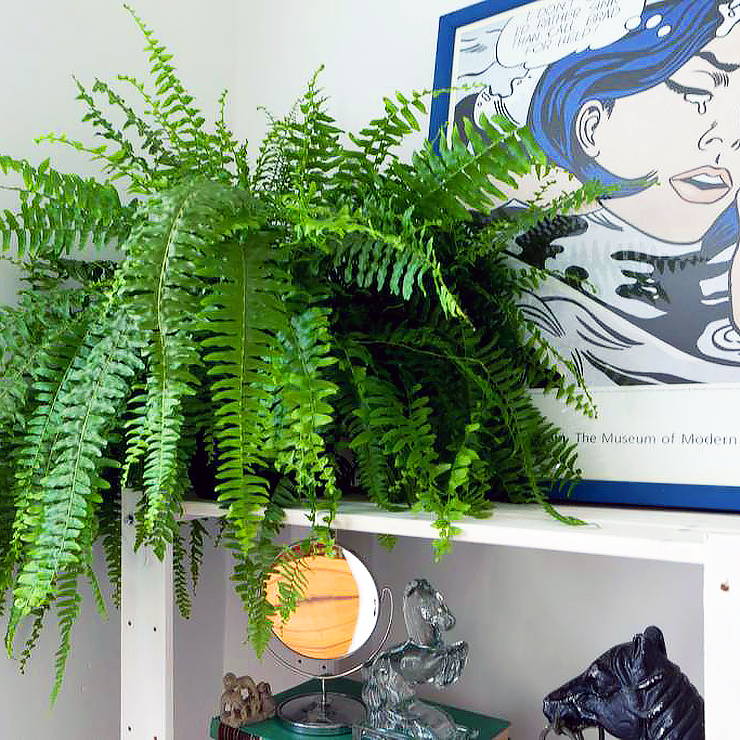 You can't go wrong with a good fern: Plant life is essential to creating a space that looks wholly 'finished.' Cheeky artwork and fun decorative items help, too.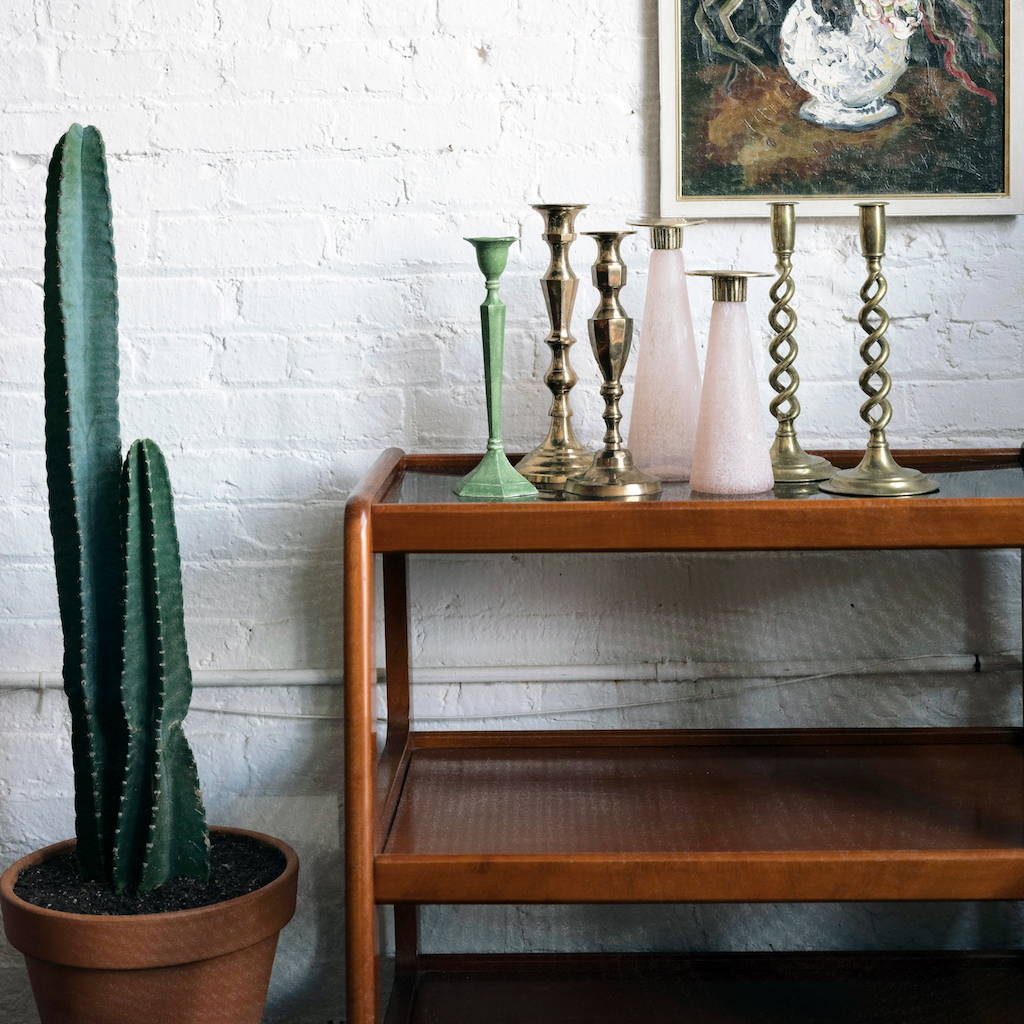 Vintage pieces are the keys to creating multilayered, eclectic spaces. Candle holders, a hedge cactus & a Danish Mod bar cart set an interesting, uncommon scene.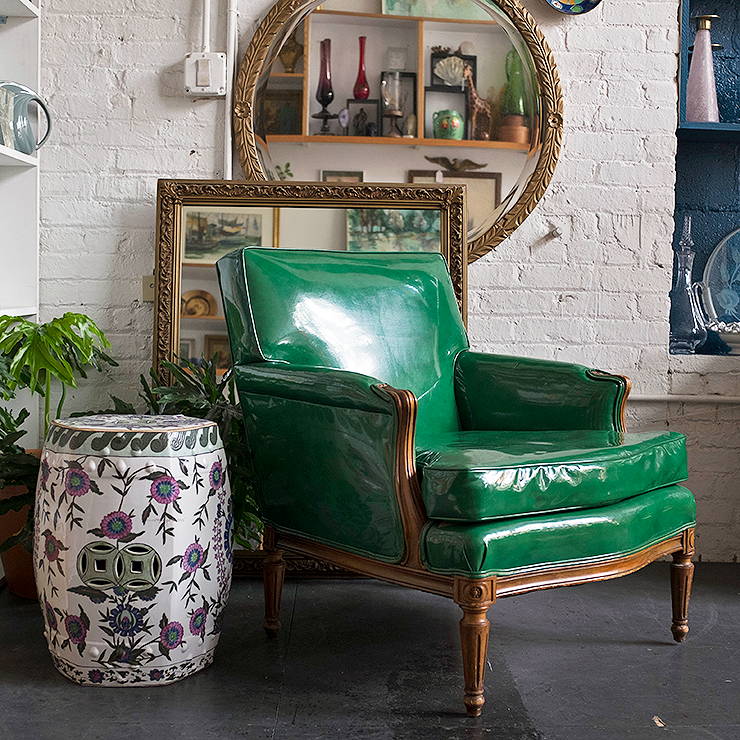 This high-gloss green vinyl chair is everything: Color is a huge unifier when styling any space. This porcelain garden stool, although modern, pairs perfectly with the 1970s lounger.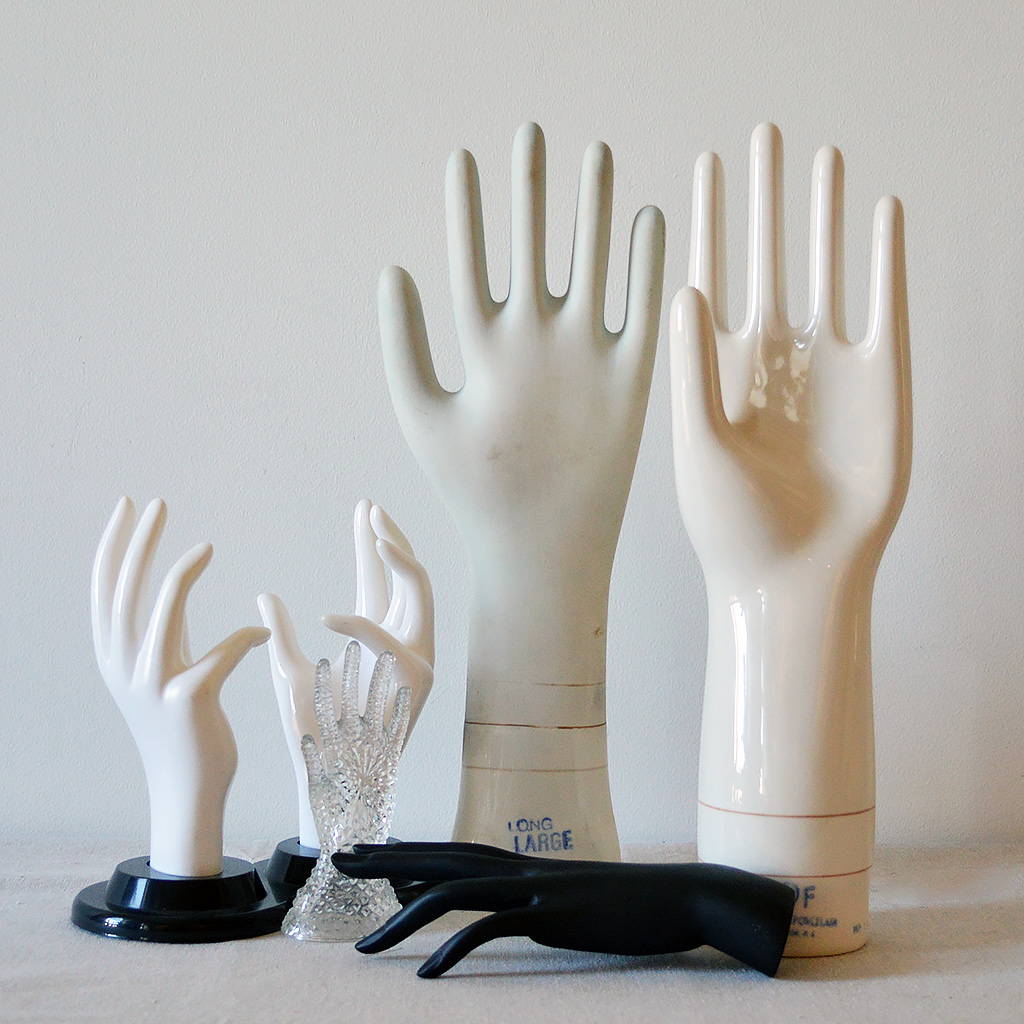 When grouped together, similar items have more impact than if peppered around a room. Porcelain glove molds add height while plastic, glass & wood hands provide contrasting color & texture.
This vignette, while busy (it's from our previous retail shop), is the true definition of eclectic. The provenances of these items spans hundreds of years—this retail display proves just how good items of different styles and eras can look side-by-side.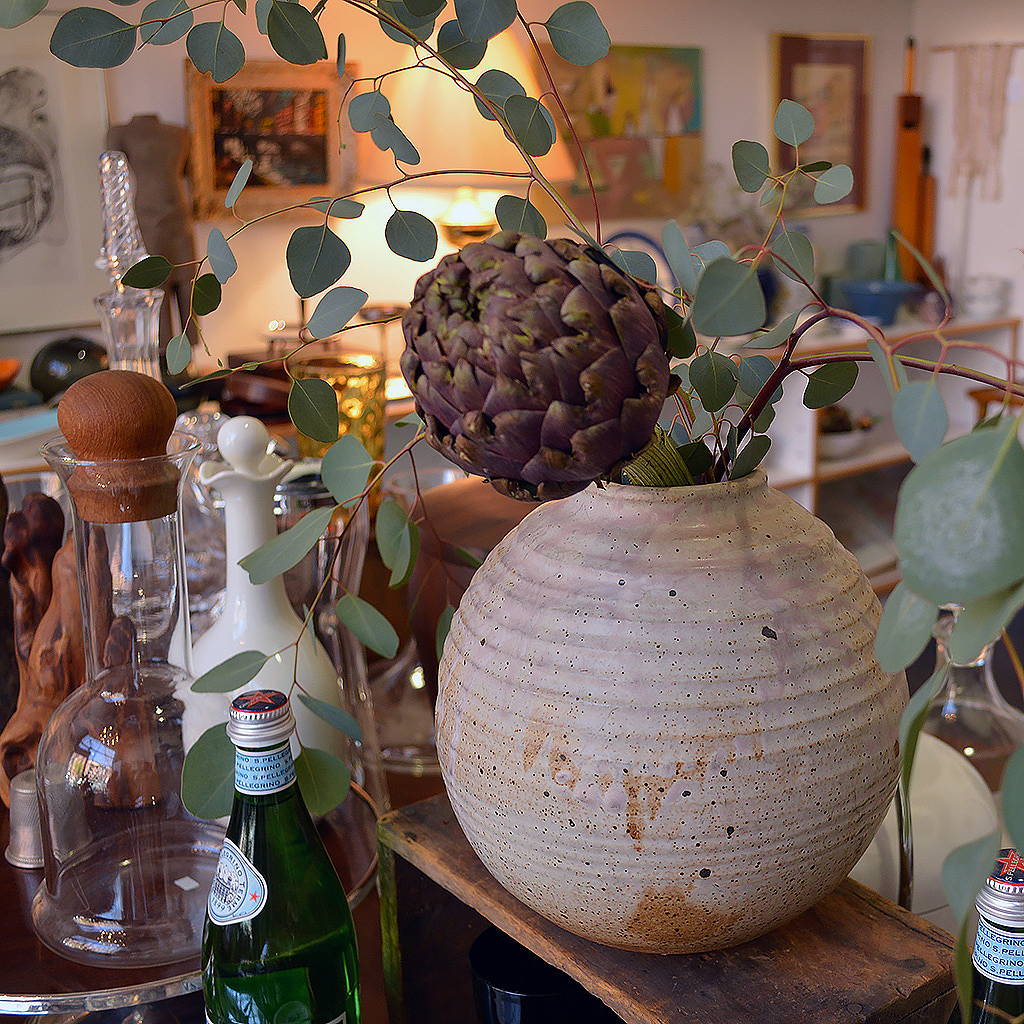 Interesting floral arrangements are a huge part of our interior styling. We always look for interesting stems with unique colors & shapes for big impact. Here, we sunk an artichoke (still on its stem) into a hand-thrown art pottery vase along with silver-dollar eucalyptus trimmings for a simple-yet-impactful purply-green & pink decorative statement.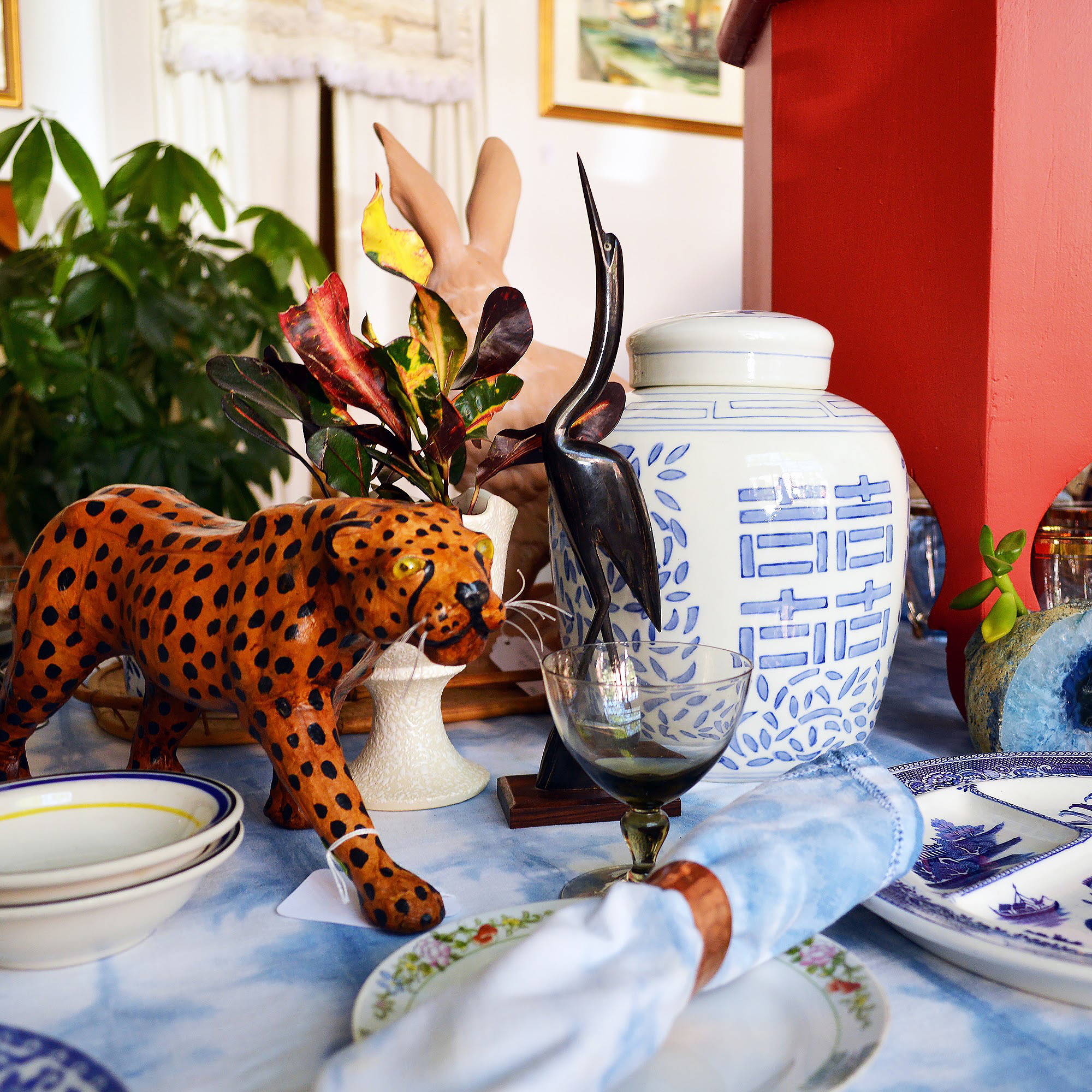 Much of interior design & decorating is about exploration—and undertaking your own crafty projects to create one-of-a-kind pieces. The foundation of this vignette was a hand-dyed shibori tablecloth with 'matching' napkins—each one was subtly different. We then set the table by grouping statement pieces of similar themes, motifs & colors.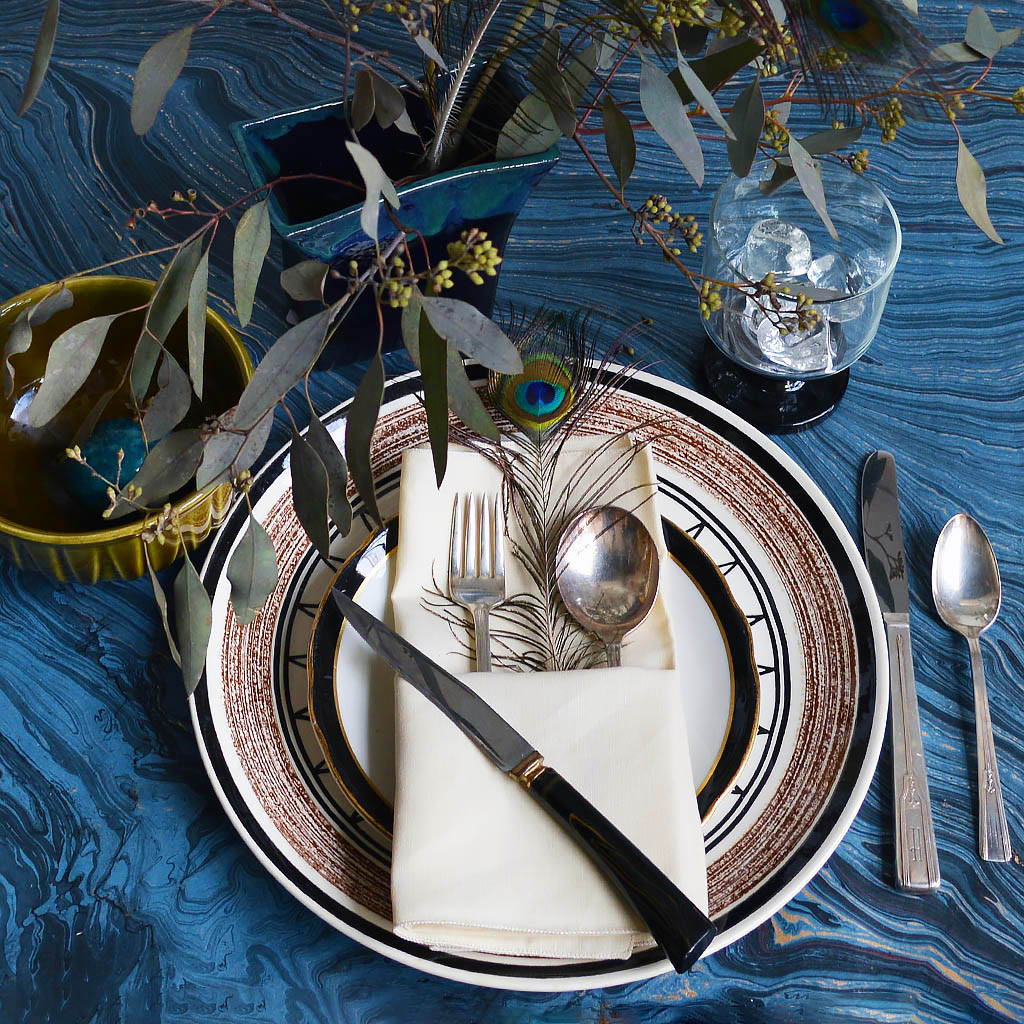 Setting an interesting table is all about mixing, matching—and sometimes even some trial & error. Here, the silverware is the only thing that 'matches' but black accents in the vase, knife, plates & drinking glass are the real unifiers in this vintage tablescape.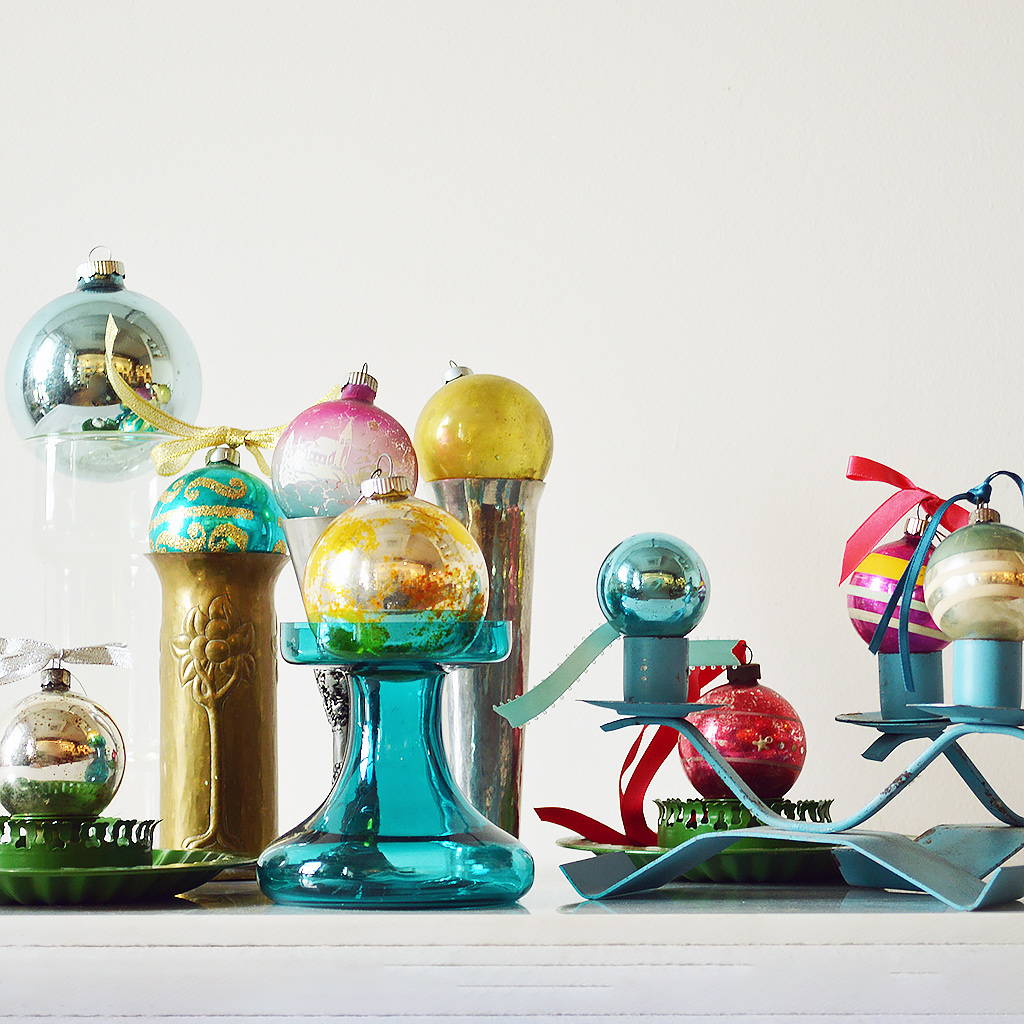 Creating a beautiful scene in interior styling is often about flipping the script—and using ordinary items in extraordinary ways. Here, a bevy of candle holders & bud vases are colorful pedestals for these shining, shimmering antique-glass ornaments.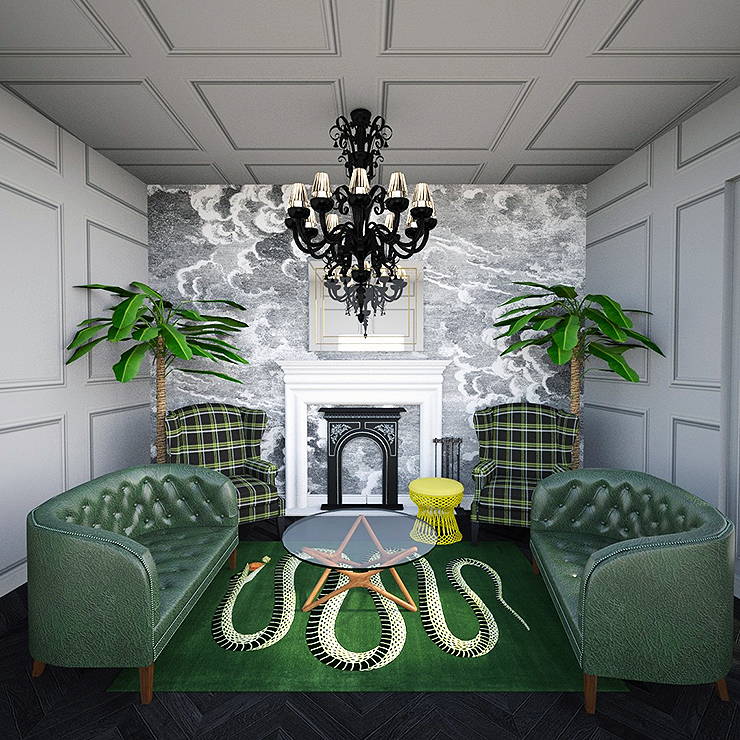 We now offer 3D Renderings like this one to go along with your packages. Here, we've gone green & black—with some hiss. (Because you know this sh!$ never goes out of style.)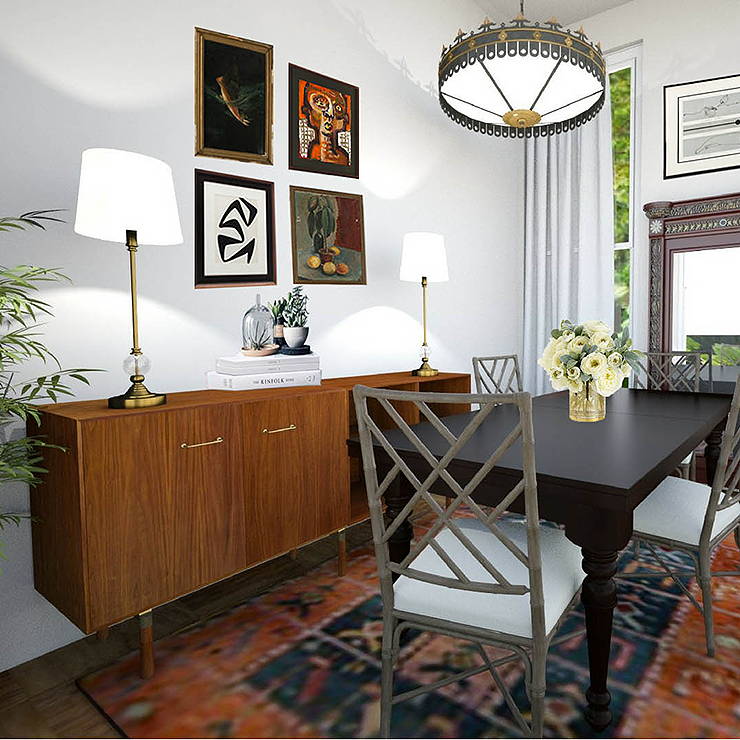 An eclectic dining room in 3D! This off-center view is purposeful: Because how many people have spaces that aren't perfect squares?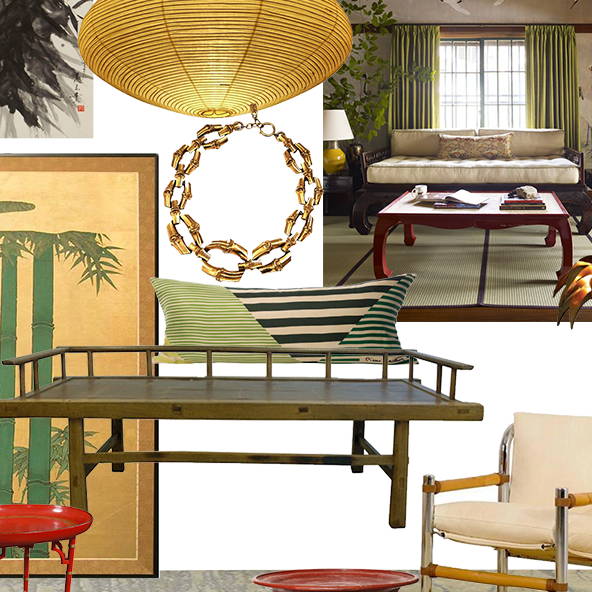 In addition to creating custom mood boards for clients, I also create them for 1stDibs, with solely its own online offerings. Here's an excerpt from a board that was all about bamboo furnishings, jewelry, artwork, clothing & more.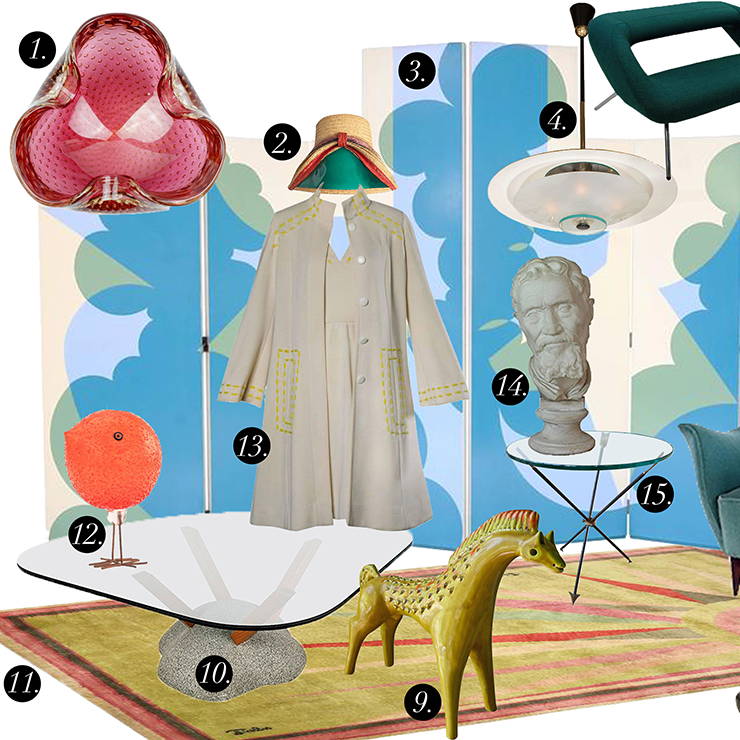 Mid-20th Century Italian Modernism realness, as created for 1stDibs.com. Venini, Stilnovo, Ettore Sottsass, Gio Ponti, Gaetano Pesce & Pucci et. al. feature prominently.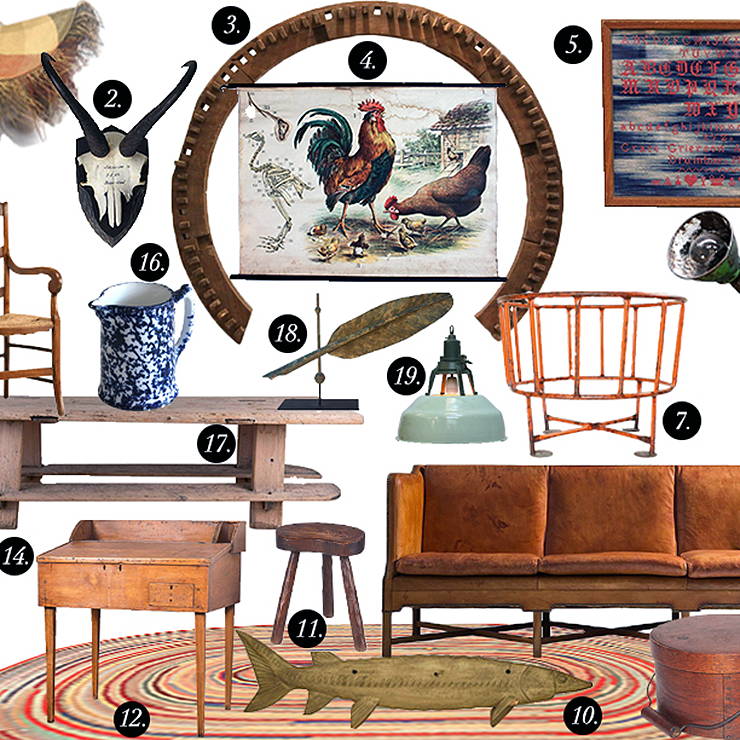 Farmhouse style has never gone out—and it seems like it just keeps coming. (Thanks Jo-Jo) Here, simple, uncomplicated pieces that kept every respectable Colonial-era homestead running tip-top, for 1stDibs.com.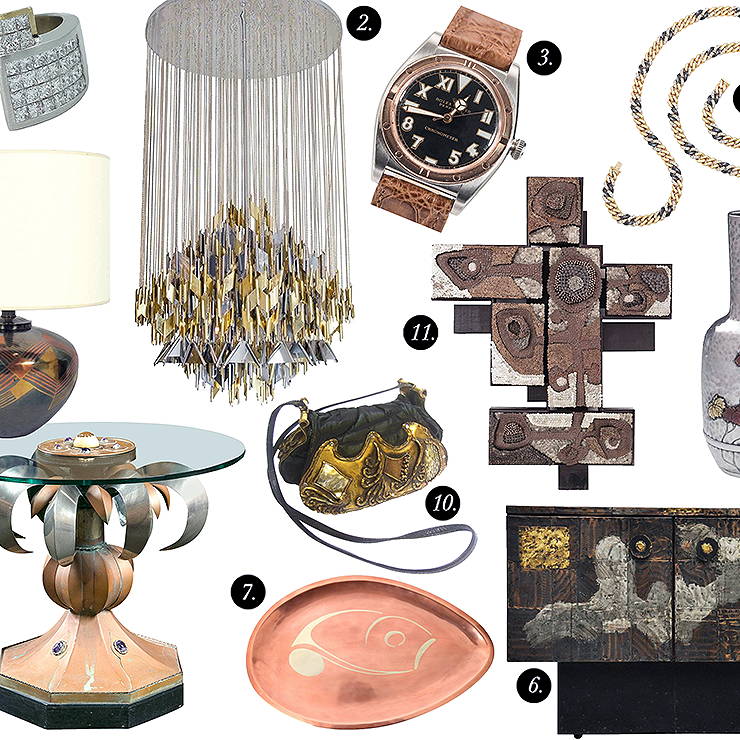 Mixing metals isn't a newfangled trend. Case in point: Every one of these 60+ year-old items incorporates not two, but several different alloys. For 1stDibs.com...